Thank you for coming to Cirrhosiscare.ca! This section is meant for any Healthcare provider caring for a patient with cirrhosis. The content includes evidence based algorithms, links to Connect care order sets for the care of hospitalized patients, videos from experts in the area, a palliative care section (symptom management) and links to helpful calculators. Additional content is being uploaded weekly!
To access the content in the Healthcare provider section:
#1) Go to the interactive menu below. Click on the topic on the left panel. The menu of items will come up on the right. Click on the purple links to go to the section of the page you're interested in.
OR
#2) Go to the purple menu dropdown bar at the top of the page
We are looking forward to working with you to make this content better! Please remember, until the summer, the site is in beta-testing mode. We value any and all feedback on the content and the look and feel of the pages. There is a feedback box at the bottom of each page.  Thank you!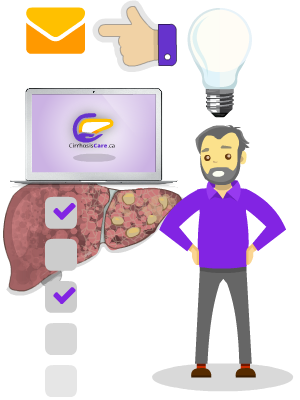 Click here to send useful resources and disease focused education materials to your patients