Top tips:
Available data on this topic is predominantly non-randomized and observational. Guidance statements are consistent with a recent expert consensus based guidelines including PMID 31895720. Consult specialist on-call for most of these cases.
Doppler ultrasound is the first-line evaluation for the diagnosis of portal vein thrombosis (PVT). Perform an Ultrasound doppler to evaluate for PVT in all patients with (i) a new diagnosis of cirrhosis, (ii) onset of portal hypertension, (iii) hepatic decompensation.
CT or MRI should be used to confirm the diagnosis, to exclude tumor thrombus and assess extension into the mesenteric veins
In patients with chronic PVT who meet indication for anticoagulation, assess for high-risk varices with endoscopy. If high risk varices are present, non-selective beta-blockers are suggested for the primary prevention of variceal bleeding.
After considering the individual risks and benefits, anticoagulation is recommended for certain patients with PVT (see algorithm).
HCC related tumor thrombus does not benefit from anticoagulation
Continue anticoagulation for 6 months and potentially longer in certain patients.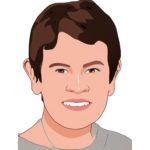 Check out the bottom of the page for short videos from Dr. Garcia-Tsao!
Introducing Dr. Garcia-Tsao

Video 1 – The top tips that may be useful for you to know about this page as a family physician including: How commonly does PVT occur? ; When do I need to call a specialist?
Coming soon!
Video 2 – Practical tips for diagnosing and managing PVT in patients with cirrhosis – how I do it.
Coming soon!
References:
This section was adapted from content using the following evidence based resources in combination with expert consensus. The presented information is not intended to replace the independent medical or professional judgment of physicians or other health care providers in the context of individual clinical circumstances to determine a patient's care.
Authors:  Dr. Vladimir Marquez, Dr. Guadalupe Garcia-Tsao, Dr. Wayne Bai, Dr. Puneeta Tandon
References: